In biotech and pharma, the choice of separation system greatly impacts product quality, yield and cost for downstream processing. With sterile, fully hermetic solutions for three-phase separation and high solids-handling capacity, Alfa Laval innovations help you optimize your production to secure quality and safety.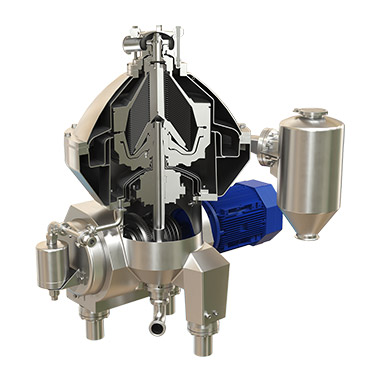 ---
The first premium separation solution for single-use biopharma processing
Looking for efficient, proven clarification with gentle handling of shear-sensitive biological material, along with increased yield and improved protein recovery? Meet Alfa Laval CultureOne™ and discover unparalleled performance for small-batch biopharma production.
eDrive™ and Hermetic Design mean energy and cost efficiency
This video presents the technology and advantages of Alfa Laval eDrive™ and Hermetic Design, which help ensure both improved product quality and lower energy consumption.
Higher efficiency and lower costs and with Alfa Laval eDrive™
Alfa Laval's eDrive™ direct drive system ensures mechanical simplicity, for fewer parts than conventional drive systems. Alfa Laval expert Peter explains how this improves energy efficiency, in addition to minimizing operating and wear-related maintenance costs.
Hermetic Design: Gentle treatment for the quality products
Hear Alfa Laval's global sales manager for life-science and industrial fermentation separators, Stephen Cripps, explain the inner workings of the Hermetic Design technology and how it provides gentle product handling and maximum product quality combined with easy maintenance and minimal energy consumption.
Alfa Laval Explore - a new online tool
Alfa Laval launches a new online tool aimed for the process industries that are facing separation challenges and want to improve their performance. Alfa Laval Explore quickly screens and predicts separation performance.
Efficient separation of biomass with Bactofuge hermetic technology
See how chemicals giant BASF has benefited from Alfa Laval's Bactofuge Design and Hermetic Design for efficiently separating biomass in the production of enzymes for animal nutrition. After testing a number of separation technologies, BASF found that only Bactofuge, with its high separation area and high g-forces, could meet their challenging demands.
Keep alert and keep performing with Alfa Laval ConditionAlert™
Alfa Laval's ConditionAlert™ connectivity solution for disc stack separators provides highly valuable insights to help you optimize maintenance and increase uptime. Learn how it works in this video.
Where Alfa Laval separators are born
Take a virtual visit to Alfa Laval's factory in Eskilstuna, Sweden. In this facility, decades of expertise combine with high-end automation to bring you large separators for energy, food and water, biotech and pharma applications.
Serving spares worldwide
From Alfa Laval's distribution centre in Tumba, we ship spare parts to customers around the world. 15,000 components are available in stock for rapid delivery, around the clock. We get you what you need, whenever you may need it.
---
Explore our innovations
Would you like to know more about our innovations in separation technology? Click on the link below. Alfa Laval invented the first disc stack separator and has led the way in the development of centrifuge technology for over a century. We are glad to share with you the expertise we have gained along the way. Visit our Separator Innovator knowledge base to learn more about advancements in separation and the steps Alfa Laval is taking to continue revolutionizing the technology.